Loft Plus Size Jacket
One of the amazing things about the intersectionality of the feminist movement including body positivity is the increase in designers making clothing for every body. I am so excited every time a new Facebook or Instagram ad pops up in my feed with a brand name designer offering a new plus size line. I am even more excited when I love what they are selling and even more excited with the sizing actually fits my body correctly!! What! So, I am crazy crazy excited about Loft's new Plus Size Line. And I really like the free shipping and returns on their plus size clothing. Let's talk about the piece I got and what else I am excited to try from the Loft Plus Size clothing line!!
I have some hard love for green military jackets… I might own a few;) And I love other colors too, but the olive green of the original really adds some hardness to my outfit that makes me happy. I love the blending of feminine and masculine styles in a way that looks amazing on a curvy body. You can see this in the way I dress and the way I decorate my house. I love mixing styles and concepts and looks and all those things. I think I am a mixer of everything… I do this with food and my teaching style and so on. Anyway, back to the Loft Plus Size Clothing.
Since Loft is new to plus size clothing, I started with one piece. A piece I was 99% sure I would love — a military style jacket. But it has this lovely feminine flair in the peplum and some other details. And boy, do I love this jacket… I love how it fits, I love how it goes with EVERYTHING. I love how it washes. I love how to buttons, but there is not too much fabric to leave it open. I love all the things about it.
I purchased a size 22 of the jacket — I can wear anywhere from a 20-24 depending on whatever the companies sizing is. I really should measure my body for the best fit, but I like to live dangerously and know that my chest is about 51in… their sizing chart listed 20/22 and 22 as the size that fit the 51″ bust so I ran with it. It is nice to know that the 2x/22 sizing I know is generally the size I wear is the best size for Loft according to their sizing chart. I was incredibly surprised at how well the jacket fit. Honestly I expected Loft to really mess up the plus size sizing… Some plus size stores who have been in business for years have no idea what they are doing with a plus size body (we all do not get wider shoulders and longer legs as our sizes go up FYI clothing manufacturers). But, they did an amazing job! This jacket fits me perfectly! I love everything about it and I think you will too!
What else do they have that I am intrigued by? Well, lots of things actually! They have their spring line and just launched their summer stuff. Here are my top 5 things I plan on grabbing for summer from the Loft Plus Size Line!
1. This Loft Flutter Sleeve Top! 

Doesn't this look delicious for summer?? Light and airy. I would pair this with jean shorts, or maybe some cute printed capris!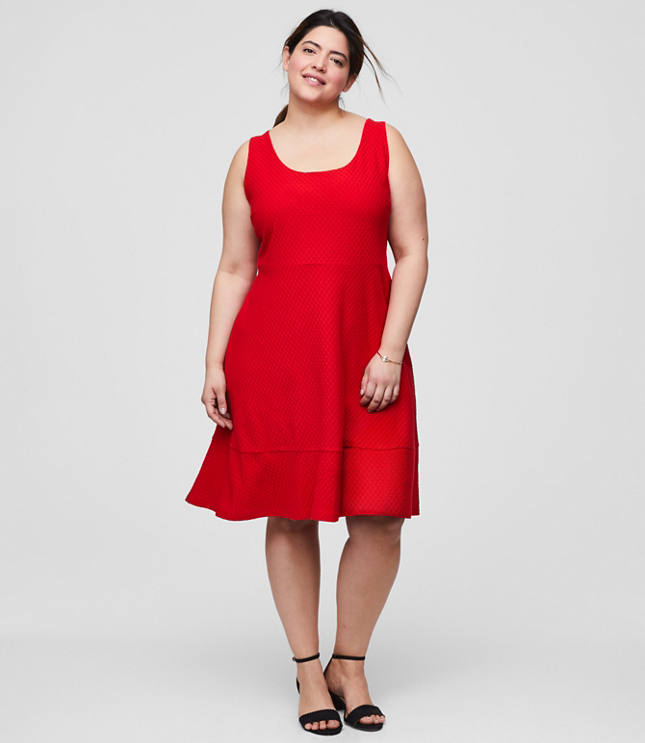 2. This Loft Eyelet Flounce Dress
I love this dress for the fun flounce on the bottom, the eyelet detail and the color! It also comes in Navy, but the red speaks to me! It could easily be dressed up for work with a black blazer and then remove the blazer for some fun after work drinks!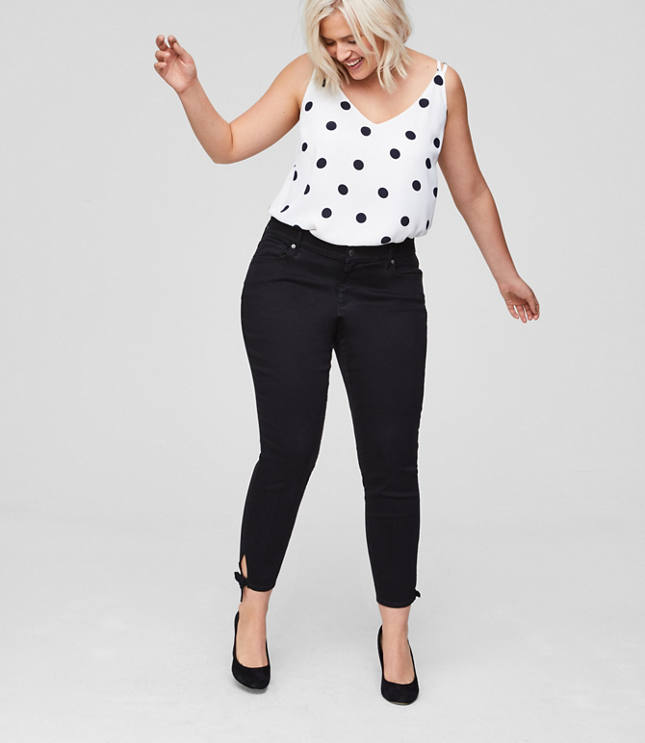 3. These Loft Tie Cuff Skinny Crops!
I am loving the crop jean craze happening right now! And these tie cuffs are so super fun. And who doesn't need some black jeans??
4. This Loft Ruffle Collar Bomber Jacket
Yeah… this would look so cute with all of my black and update it for spring and summer! I also love how they paired with with a white tee and jean shorts! And ruffles are obviously my weakness… unless they are on my chest, then no.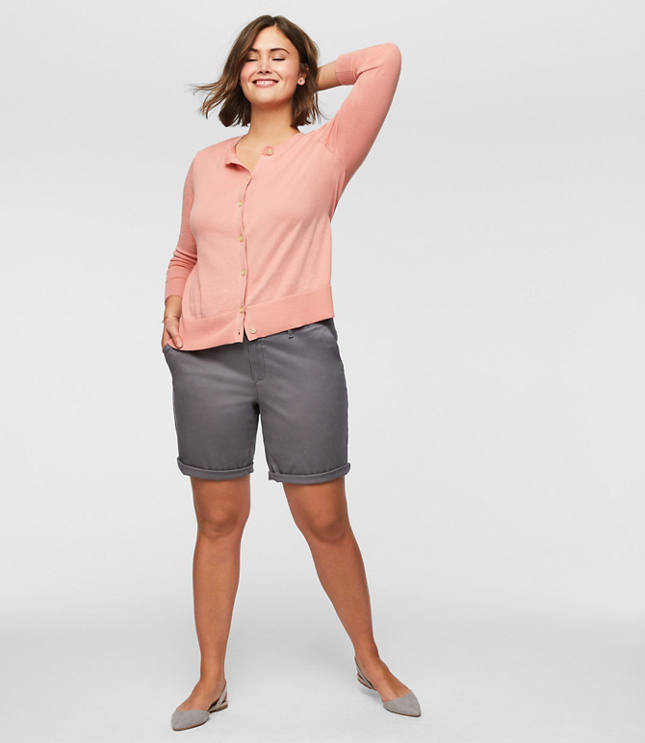 5. Finally, These Loft Plus Size Bermuda Roll Shorts
These come in 4 different colors — but I would grab this grey color… and they would look super cute with that bomber jacket too.. or the flutter sleeve top… or just about anything already in my closet!
I hope you enjoyed this Loft Round up — head on over to my Pinterest of course to see more of my style!!! 
Affiliate Disclosure for my Peeps